When severe bad weather, heavy rain and flooding is forecast some authorities in the US offer some kind of help with sandbags.
We say 'some kind of help' as it's often not what you'd think it is. Indeed, many times it's just a pile of sand and you have to bring your own shovel and sometimes even your own empty sandbags. That's if you can find a store that stocks them.
Then it'll take two of you ages to fill the bags – one holding it open while the other shovels it in. That, of course, is if you even have the time to do this back-breaking task before the bad weather hits.
Once the bags are filled – and you're usually rationed to 10 or so sandbags – you have to load them onto your vehicle and drive them home. That's if you can fit them all in and your car can take the weight as sand is notoriously heavy.
Once home you have to unload them all and then painstakingly build them into a flood barrier and that's when you realise the sandbags aren't all the same shape and size so they are virtually impossible to make them watertight.
So, after all this, that offer of free sand isn't looking such a bargain anymore.
There is another, easier and more effective way to prevent flooding which more and more Americans are discovering.
Buy a box of 20 FloodSax (https://floodsaxus.com/) which one person can easily carry and it'll fit into your car, even if it's small. Inside the FloodSax box are four easy-to-carry packs each containing five FloodSax which are incredibly space-saving to store.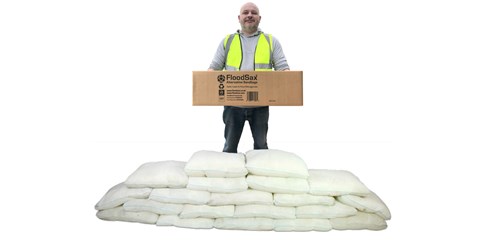 All these 20 FloodSax alternative sandbags came from this one box (model not included)
When harsh weather is forecast you can wait until the 11th hour to see if it's actually going to happen and if it looks like flooding is imminent simply get the FloodSax out, immerse them in water right next to where you want them to be. They absorb the water in minutes and retain it to become instant sandless sandbags weighing 20kg (44lbs) and in a uniform shape that are easy to stack into a highly effective flood barrier.
Once the FloodSax they have been used you can dispose of them in the trash as they are largely biodegradable.
Even better, FloodSax are multi-purpose unlike sandbags so in their dry state they resemble a large, very flat pillowcase and this big surface area means they can be used indoors under drips, leaks, spills and floods to soak the water up. Some plumbers in the UK now carry them on their vans as part of their standard kit and FloodSax can save countless thousands of dollars damage from expensive internal floods.
FloodSax managing director Richard Bailey said: "With FloodSax you have a dual purpose product that works both outdoors and inside to deal effectively with all kinds of floods and other water leaks.
"When bad weather is forecast you often have little time to react so having FloodSax stored in your home or garage will give you the peace of mind to know you are protected against floods. The average flood claim in the US is around $60,000 which makes buying a flood protection product such as FloodSax a ridiculously cheap way to protect your property from floodwater. The fact they are so easy to store and deploy means they are also the perfect flood protection for the elderly and people with mobility problems."
Here are some examples of American cities and towns offering free sandbags in October 2021 … and their limitations.
In San Francisco residents and businesses in the city can get up to 10 free sandbags from the Department of Public Works for properties prone to flooding. One news website said: "It is suggested to take no more than 10 bags due to weight; it might impact the way your vehicle manoeuvres."
To put it into context you could probably put 4 boxes of Floodsax in a large family car … that's 80 sandless sandbags.
Washoe County in Nevada announced sandbag locations ahead of a big winter storm … but people needed to take their own shovels to put the sand into sand bags.
In South Lake Tahoe, California, the authorities have provided sand and sandbags but people would need to put the sand in themselves.
News website the Tahoe Daily Tribune warned that people with no experience of filling sandbags may well get it wrong, making the sandbags relatively ineffective.
It wrote: "Residents should bring their own tools to fill the sandbags. The bags should be filled to about three-quarters full and need to be tied near the top. Bags too full or too empty will not be affective."
In Paso Robles, California, all residents get is a pile of sand and then it's do-it-yourself. California news website KSBY6 says: "The city has made sand available to its residents who wish to make sandbags to protect private property. City officials recommend bringing your own shovel and sandbags."
In the city of Cotati, California, the authorities warn people they may turn up for sand to find there's none left.
They state: "The city does not deliver or place sandbags on private property. Sandbags and sand are available for self-fill with a limit of 10 bags per household or business. It's on a first come first served basis until supplies run out."
So, perhaps it is way better to be flood prepared by having a box of FloodSax sandless sandbags at home to save yourself all the needless worry and messing about trying to get sandbags when stormy weather is on the horizon.
To find out more about FloodSax alternative sandbags in the US go to https://floodsaxus.com/
To buy FloodSax® quickly in the US simply go to https://www.amazon.com/dp/B019C6C578/